Milton Parc: The History, Citizen Struggles, and Community Life of a Neighbourhood (complet)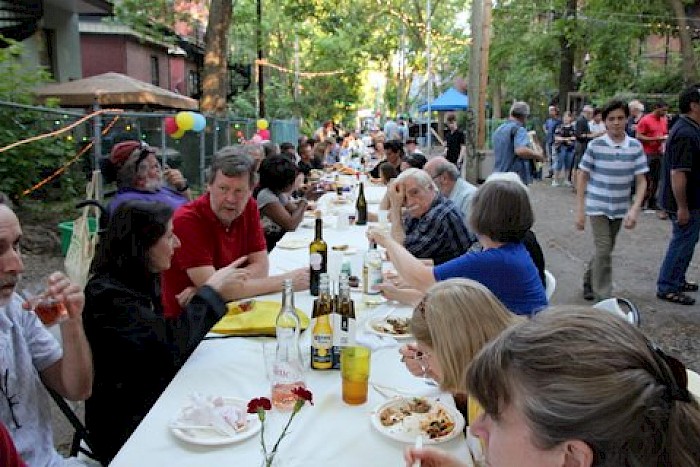 This guided tour of Milton Park will explore its history, architecture, citizen campaigns, ecology, and vibrant community life. The neighbourhood's heritage-protected late 19th century houses, built with greystone quarried from the island of Montreal, have been the homes for numerous important artists, scientists, and politicians. The 1970s housing rights struggle to defend the neighbourhood from the LaCité mega project would form the biggest non-profit housing co-operative project and community land trust in Canada (the Milton Parc Community). Subsequent community control and ecology movements include traffic calming initiatives, the founding of the Montreal Urban Ecology Centre, the removal of the Pine-Parc highway interchange, the saving of the Strathearn Centre for culture, the protection of green spaces (like the Notman Gardens), and the campaign for the future of the enormous Hôtel-Dieu Hospital. There are also ongoing collaborations with McGill University and the borough on issues of studentification, noise reduction, and waste management. This tour is organised as part of the 50th anniversary of the Milton Parc Citizens' Committee and the 30th anniversary of the Communauté Milton Parc. We will depart from Milton Gates of McGill University, at the corner of University St and Milton St.
Inscrivez-vous
À savoir sur cette promenade
4 mai

11h

1h30

Anglais

3497 Ave du Parc
Montreal
H2X 2H6
Metro McGill, buses 24 (Sherbrooke), 80, 435, 129 (Parc Avenue), 55 (St Laurent/St Urbain)

Le Plateau-Mont-Royal

Bienvenue aux chiens
Pause prévue durant le parcours
Trottoirs achalandés

Communauté
Nature et agriculture urbaine
Architecture et patrimoine
Histoire
Mouvements sociaux et citoyenneté

The Milton Parc Citizens' Committee (CCMP-MPCC) and la Communauté Milton Parc (CMP)
---
Inscription
Nous avons atteint le nombre limite de participants pour cette promenade!